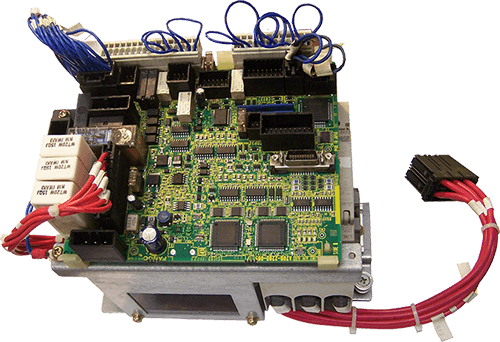 Replacing robot parts such as boards, motors, cables, and mechanical robot components can be a logistics nightmare, as well as an economic disaster for a carefully planned maintenance budget. The Robot Company can ease that strain by providing you with the robot parts you need, when you need them, at significantly discounted prices. Whether you are a buyer or seller of robot parts, the Robot Company is your robotics resource.
The Robot Company offers a wide selection of used and rebuilt robot parts for purchase or exchange. We understand that when you need robot parts, you need to get them as quickly as possible to avoid costly downtime. When you buy from the Robot Company you will not need to wait 60 days or more for your parts to arrive – if we have it in stock, it can be at your facility in 24 hours or less.
When you buy robot parts from the Robot Company, you will enjoy peace of mind. Every robot part we sell has been inspected for quality and is under warranty to guarantee your satisfaction. For the convenience of our customers, we accept Visa, MasterCard,  and American Express.
Contact us today to learn more about how we can meet your robot parts needs.
Need to Exchange or Repair a Fanuc Robot Part?
Each Fanuc Robot Part we sell has been inspected to quality and is under warranty to guarantee your satisfaction. Contact us or call us at 800-487-5487 to discuss your Fanuc Robot Part needs